You can transfer the domain from any registrar to MKhost, whether it is Macedonian or an international domain.
Procedure for transferring Macedonian domain to MKhost (.mk .com.mk .edu.mk .org.mk .net.mk .inf.mk)
To transfer your Macedonian domain from the current registrar to MKHOST-REG you will need to take the EPP transfer code from your current registrar.
How to find the code quickly in the current registrar?
Send an email to the current registrar and request the EPP transfer code (the e-mail should be sent through the registrant's, owner's e-mail which can be checked here: http://whois.marnet.mk/- by entering your domain name)

 Log in to the online panel of the current registrar (if any) and in the domain management options search for the code (it will be displayed on the screen or sent by email).
After you receive the transfer code, send it to domains@mkhost.com.mk or transfer domain by yourself from the portal area (follow the instructions at the end of the tutorial) and the domain will be immediately transferred to MKHOST-REG. This domain transfer procedure is free.
The date of the domain expiry remains the same. You restore the domain before it expires on your demand.
The domain can be transferred at any time (you don't have to wait for its expiry date, or you can transfer it right before the expiry date, even if when the domain has expired - that is in its protected period).
Procedure for transferring an international domain to MKhost (.com .net .org .info)
To transfer your international domain to MKHost it is necessary:
The domain to be unlocked (for this you should notify your previous registrar, or log in to the online panel and unlock your domain yourself - you should get the status: unlocked)

Take the EPP transfer code and send it to us (if you do not have access to the EPP transfer code then contact your registrar to provide it)

Confirm the domain transfer. Have access to the e-mail that has been left as an administrative contact so you can verify the transfer (an email message is being sent from MKHOST-REG and should be confirmed in order for the transfer to be successful)

Wait 4-10 working days. The transfer and the taking over is not done immediately, it is a process that lasts few days.
While the transfer is in progress, the domain remains in the old registry and from there it can be managed (to change contact data, DNS servers).
It is necessary the transfer to begin at least 10 days before the domain expires. You can't make the transfer to an expired domain or domain that expires in the next 10 days.
With the transfer of an international domain, there is also a domain renewal. Therefore, this service is charged at the cost of international domain renewal.
How to transfer my domain by myself from my portal client account?
Log in to https://portal.mkhost.com
Go to part Shop then click on Domains from the Menu. On the top of the search bar for domains first click on Transfer domains and enter the domain in the search bar and click search. Click add to cart → View cart → Enter the EPP code and click Continue to checkout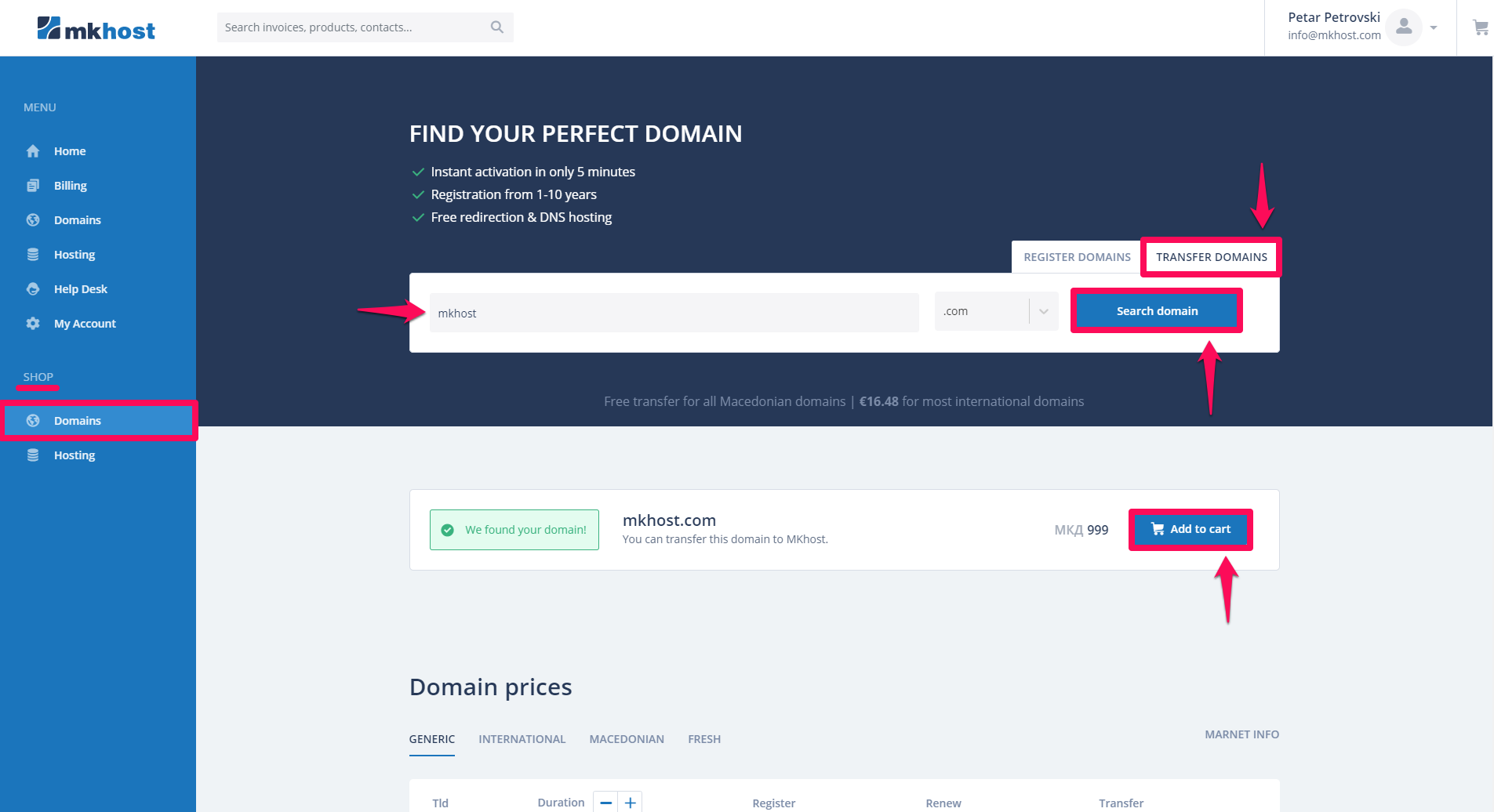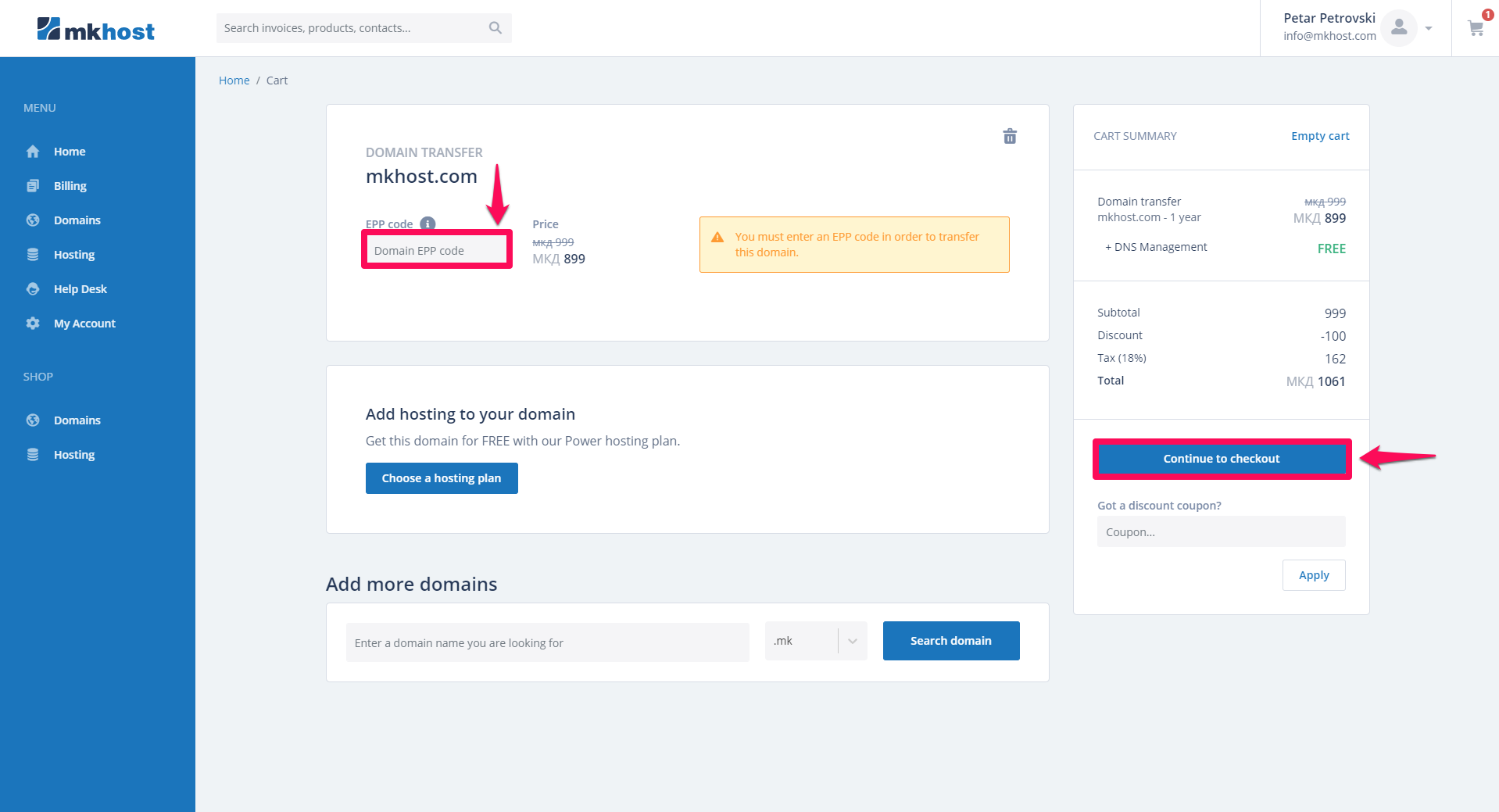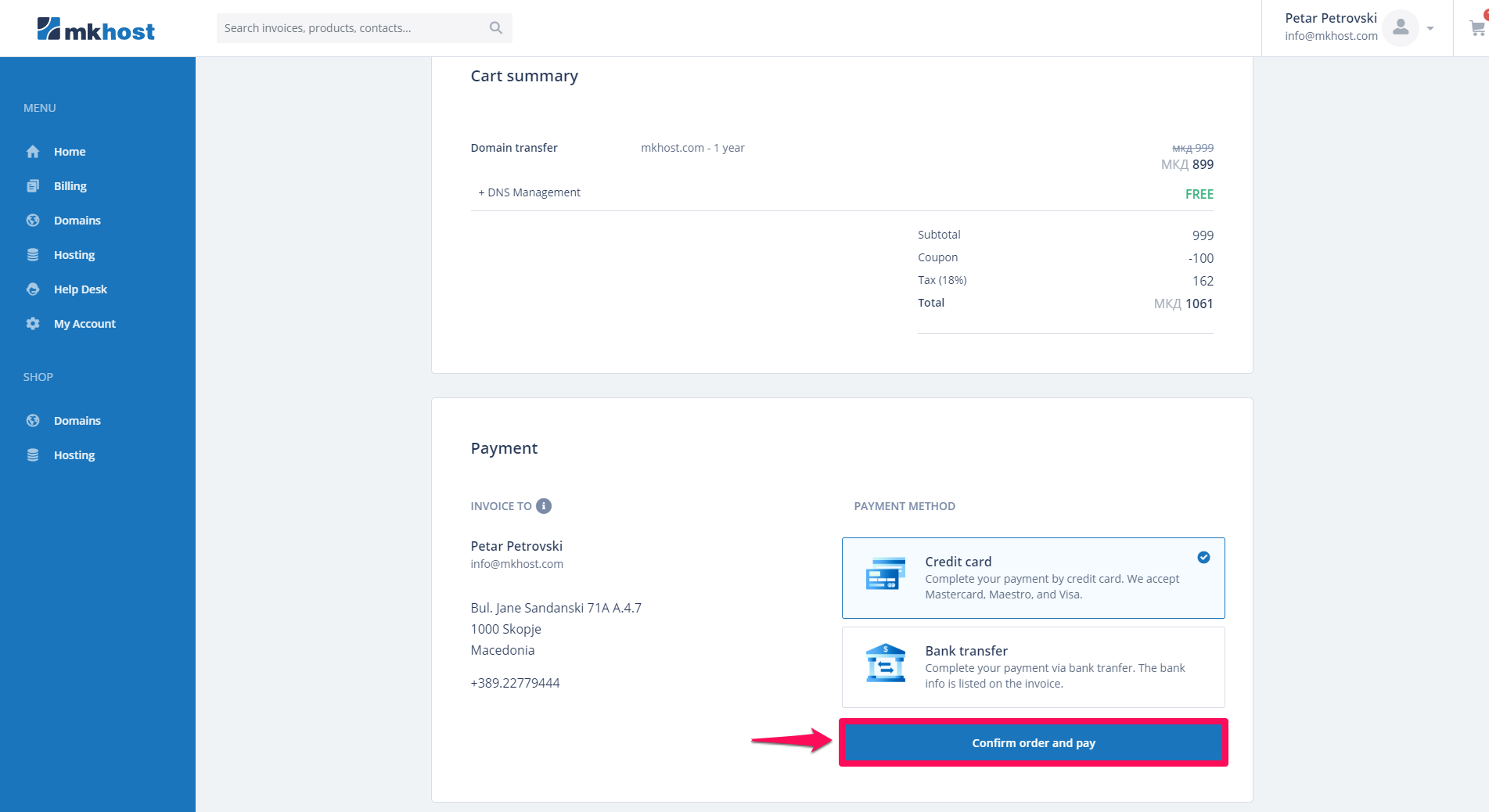 You will then have a response if the domain is successfully transferred to MKhost